Background:
A fabricator and installer of custom sets for television and theater uses a plethora of wires to create color-changing light-up panels in the sets. They needed a custom cable solution to keep the sets neat and organized.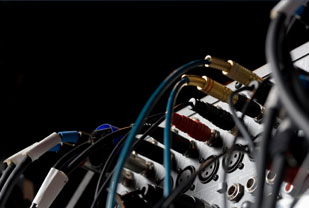 Requirements:
The cable unquestionably needed to be able to handle a large power load. In addition, the conductors needed to be consistently color-coded in order to reduce potential errors. Finally, heavy-gauge wires the company had used in the past were huge, making them difficult to manage – so ideally, they also wanted to reduce the cable size.
The Multi/Cable Solution:
Multi/Cable built a custom cable that met all of the company's specifications. The conductors are colored to match the corresponding light color, making setup much easier, and the black jackets are aesthetically pleasing. The resulting bundle is also much smaller, and, it turned out, cheaper than using stock wire.
This customer now regularly orders a simple Five conductor 20 AWG cable & Three conductor 20 AWG in addition to two custom cables being a 4x16 AWG & 2 x 12 AWG composite and a 2 x 16 AWG & 1 x 12 AWG composite.