Background:
An established market leader in cured-in-place pipe installation and curing equipment was developing a highly efficient LED UV curing technology. They needed a single water-blocked cable that could include components for monitoring, power, and control.
Requirements:
The client's application needed all components incorporated in a single cable, but there was no available off-the-shelf or "catalog" cable item that met this requirement. Without a custom solution, several separate components would be have to be used, and the final umbilical would undoubtedly be of poorer quality.
The Multi/Cable Solution: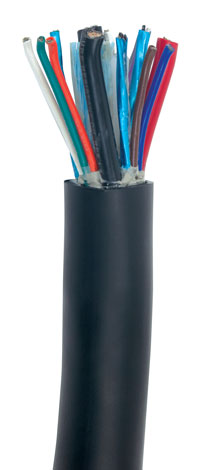 The cable we provided included:
9 x 14 AWG wires for control
2 x 8 AWG wires for power
3 x individually isolated shielded pairs for data/communication
An RG59 coaxial cable
A vent tube
The components were concentrically cabled with special water-blocking compound and a robust TPE jacket well-suited for rugged outdoor use with exposure to water, oil, chemicals, etc.
The final composite cable maintains flexibility and performs flawlessly in all conditions.