At Multi/Cable, we are big advocates of custom cable, especially since it's our specialty! Here are the key benefits of custom cable:
Performance Custom cables are often the only option that incorporates specific features required for extending the lifespan of the product.

Specific electrical parameters, tolerances, and suitability for specific environmental conditions can be ensured.
Incorporating multiple functions such as power, signal, tubing, etc. in one cable saves space, speeds up installations or assemblies, eliminates waste, and ensures unmatched performance.

Flexibility Many options are available for conductor size & materials, strand configurations, insulation & jacket materials, color codes, and more.

As your design evolves, your cable can adapt with it.
Production runs / cable lengths can be changed on a per-order basis.
Design changes can be quickly & easily deployed.

Certainty Eliminate the guesswork of determining if you can accomplish your design or project goals using catalog parts.
Accountability Working directly with the manufacturer of your cable gives you the ability to hold them accountable for the quality and service levels you require.
Professionalism

Products or installations incorporating custom cables tend to have a much neater appearance.
Eliminate unwieldy collections of messy wires & cables.
Avoid the laborious process of applying labels & expensive protective sleeving.
Incorporate your company marketing into the design.

Cost

Save on labor by using products requiring less assembly or installation time.
Don't pay for additional conductors, shields, or other unnecessary features.
Avoid waste from ordering full factory spools with more material than required.
Save time wasted on reviewing product catalogs that don't contain the item(s) you need.
Eliminate the need for pricey wire management products.
Avoid replacing cables that fail prematurely.
Custom Cable Examples: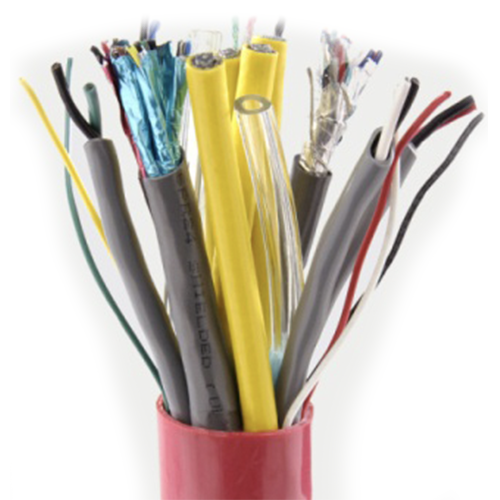 This custom cable features: 15 conductors of 24 gauge overall shielded and jacketed, 6 shielded pairs of 24 gauge with an overall jacket, 4 conductors of 18 gauge shielded and jacketed, 4 individually jacketed twisted pairs of 18 gauge, 6 single conductors of 24 gauge, 4 RG 58A/U coaxial cables and 2 vent tubes all under an overall red polyurethane jacket.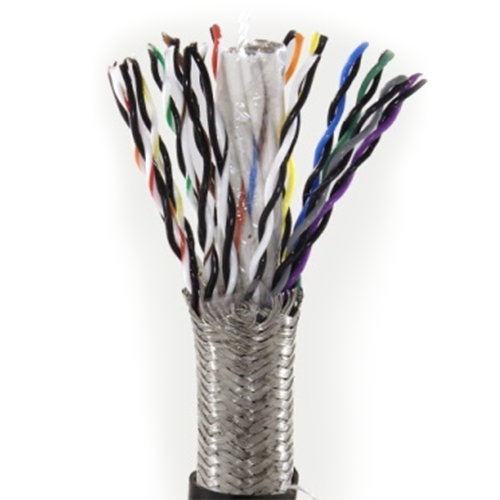 This custom cable is made up of an inner core of 8 striped coaxial cables, and an outer core of 15 pairs of PTFE insulated 26 gauge silver platted copper. There is an 85% tinned copper braid with an overall black PVC jacket.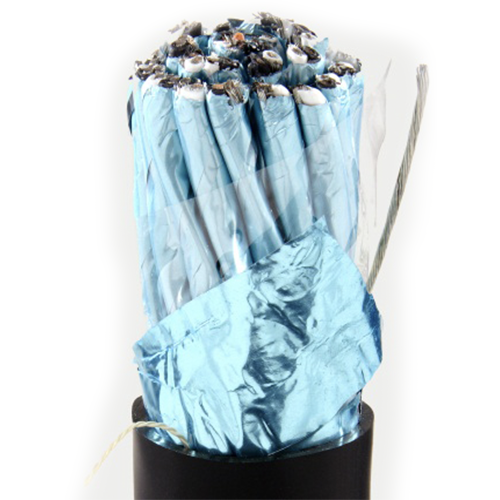 This custom cable features an inner core of 4 shielded pairs of 18 gauge. The next pass is made up of 10 shielded pairs of 16 gauge, and the outer pass consists of 16 shielded pairs of 16 gauge. There is an overall foil shield, all under a black PVC jacket.